About CSANZ
New Zealand's University Computer Science Community
About the Computer Science Association of NZ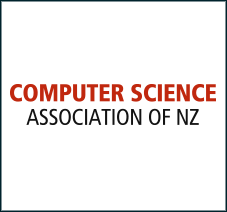 Formed in 1996, the Computer Science Association of New Zealand (CSANZ) is the collaborative forum for the country's University Computer Science and related disciplines community.
Members include the Departments of Computer Science at Auckland, Canterbury, Otago and Waikato Universities, the School of Engineering and Computer Science at Victoria University, the Department of Applied Computing at Lincoln University, the School of Engineering and Advanced Technology at Massey University Manawatu, the Institute of Natural and Mathematical Sciences at Massey University Albany, the Department of Information Science at Otago University, plus Computing and Mathematical Sciences at AUT University.
CSANZ exists to coordinate interdepartmental activities in CS research and teaching and to represent and promote Computer Science in New Zealand.
CSANZ Conference history
As an organisation and through its members, CSANZ has been involved in many Computer Science-oriented conferences over the years, the most notable being the NZ Computer Science Research Students' Conference the annual conference for postgraduate students of Computer Science.
CSANZ has also been the focal point for CS subject and other conferences. CSANZ2014 will see the first conference under the direct CSANZ banner.